RANDOLPH, VT. – January 15, 2020 – Prolume, professional lighting, debuts PERFEKTLIGHTTM with organic food retailer and restaurant Chef's Market. PERFEKTLIGHT precisely matches indoor lighting to sunlight.  The technology uses advanced color correction with "set it and forget it" electronics to create healthy indoor environments.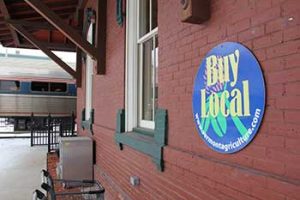 Built in 1881, the Randolph historic train station has long been the center of the town and now serves as home to Chef's Market. As Chef's Market has grown using exclusively dairy, produce, and meats from Vermont's local suppliers, it has become the hub of the town.
"We continuously seek to enhance our customers' experience in our store and restaurant," said owners, Tammy and Scott Aronson. "Our customers love the new lighting, and enthusiasm has been obvious since the retrofit.  Prolume improved our display lighting. Color tuning revolutionized our ambient lighting.  We moved into the historic Randolph train station site in 2017.  We expected our LED lighting would be efficient, but the color temperature of the light was always a compromise.  It had to be warm for our restaurant customers, but deliver enough light for retail shoppers and for our employees' productivity.  The previous solution was out of sync with the daylight from the buildings many windows.  The retrofit increased light levels by over 40% and dropped lighting power consumption by 28%.  The color quality of merchandise has been dramatically enhanced.  That single factor drives product sales." Scott elaborated.

Jeff Green, Prolume's Director of Engineering and an IES museum lighting committee member, adds "we are thrilled to be working with Chef's Market.  The owner's dedication to the health of their customers' and their employees make this venue an ideal showcase for PERFEKTLIGHT.  This technology minimizes circadian rhythm disruption that occurs with ordinary indoor lighting. PERFEKTLIGHT is a synthesis of inventions that solves the problem of exact color tuning coincident with outdoor light."
"Prolume has incorporated PERFEKTLIGHT into custom and retrofit products allowing customers, agents, and lighting designers to specify PERFEKTLIGHT.  Our electronics can be paired with simple or advanced controls such as dimming in conjunction with daylight harvesting" said Zach Treamer, Director of Product Marketing.  "In March, PERFEKTLIGHT will be offered in "ready-to-spec" Prolume fixtures.
These new technologies will be showcased at LEDucation in NYC on March 17th and 18th and at LFI in Las Vegas on May 5th – 7th.
* * *
About Prolume
Established in 1994, Prolume (www.prolumeled.com) designs and manufactures custom LED fixtures that resolve the most complex lighting challenges. Headquartered in Randolph, VT, Prolume serves clients worldwide with LED products deployed in the most demanding commercial, historic applications and settings.
Media Contact
Zachary Treamer
e: ztreamer@prolumeled.com
p: (203) 268-7778
https://prolumeled.com/wp-content/uploads/2020/01/outside_PR-photo.jpg
1285
2048
Brooke Sault
https://prolumeled.com/wp-content/uploads/2019/11/prolume-logo-web-header.jpg
Brooke Sault
2020-01-15 15:24:55
2020-05-15 08:14:40
Prolume Debuts PERFEKTLIGHT to Replicate Sunlight Indoors