Randolph, VT – September 14, 2021 – The Saint Nicholas Greek Orthodox Church and National Shrine held a 9/11 memorial service and ceremonial first lighting on Friday, September 10th in lower Manhattan.  The event celebrated the reconstruction of the only house of worship destroyed 20-years ago.
Prolume provided lighting for the project's marquee features.  Mathew Michell, Regional Sales Manager, commented that, "Cooperative partners in an endeavor of this complexity are key.  We were fortunate to work with the DLR Group, Light Abilities, and Skanska." Prolume provides highly customized solutions for the exacting needs of lighting specifiers.  Michell added "All stakeholders worked collaboratively to achieve the overall success."
One of the most stunning lighting features that resulted is seen on the west façade (Figure 1); this section required novel engineering.
Jeff Green, Director of Engineering, stated, "The lights stretch vertically up the side of the building and follow each curve.  The space along the curve would have limited access after construction.  Hence, the lights needed to be able to move along the building's metal structure for installation, aiming, and long-term serviceability."
Prolume solved the needs of the architectural design using a custom lighting system (Figure 2) that slides along the curved metal structure.  Each light and baffle in the system were engineered to be independently adjustable for precise control.  The baffles formed a light barrier to the inside of the building while allowing the dramatic exterior appearance.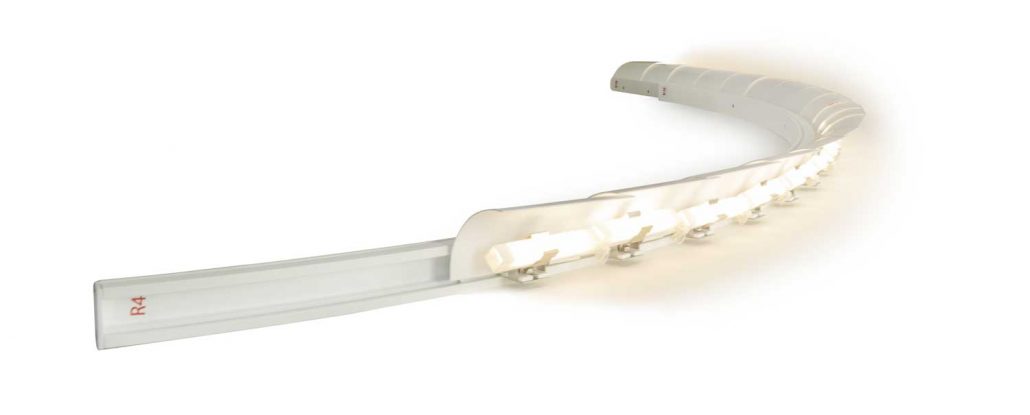 The professional lighting charter of Prolume is to master the toughest lighting projects with engineering and ingenuity.  Green added, "Such a system without modern LED technology would simply be impossible.  For that reason, rebuilding the church in the modern age when LED's can be fully utilized resulted in an architectural wonder that distinguishes a landmark building at a site of national importance."